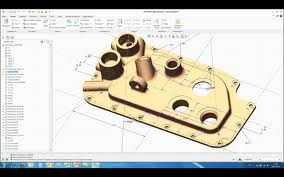 As you know all too well, many design changes occur late in the process or even many months after the original design was created. Late stage design changes can be a real problem for companies. You want to be able to respond quickly to the challenge, without having to sacrifice your design intent. But, this isn't always easy to do.
Problem #1 Late stage design changes can be very time-consuming
Unanticipated changes create real pressure on project schedules. Often, this can result in teams having to work overtime or even into the weekend to make sure that a project is finished on time, especially if the change is going to radically alter the geometry of the part. If you're relying on just a parametric design approach, then your models can fail if the constraints and features are not unravelled before redefining the geometry.
Problem #2- The design intent is not clear
Imagine, for example, that you need to make a change to a model. But the design intent is now obsolete, or there wasn't a design intent in the first place. Or, perhaps you've imported the design from a different CAD tool and there are no features or parameters. But, regardless of this, you still need to be able to make the changes to the design.
Problem #3- You didn't make the model, so you're not sure how to modify it
You might just need to make a quick change to meet a deadline. You didn't create the model, so now you are not sure how it was originally built. But, that change still needs to happen. In a survey of 7000 manufacturers, 39% have difficulty making changes to models that were created by other people (Source: PTC)
Solution: A flexible design tool for late stage design changes
What is needed in these cases is a tool that means any late stage changes can be done without having to take up lots of additional time. Having the right tool will enable you to adapt any imported data to your current needs. In this case being able to work directly on a parametric model will give you the freedom to make your late stage design changes fast.
Creo Flexible Modelling works directly on the geometry. All you need to do is select the geometry and use an intuitive 3D dragger to move the geometry and relocate it. The tool automatically reattaches the geometry to your model, with any rounds that exist automatically rebuilt. It also has pattern and symmetry recognition abilities
You can even import models from other CAD systems and add design intelligence to them. It gives you the ability to manage any unpredictable changes, even on models created by other people. And, importantly, you won't have to sacrifice the design intelligence or the ability to make any future edits.
Want to find out more about how to cope with late stage design changes? Download out free eBook on design agility