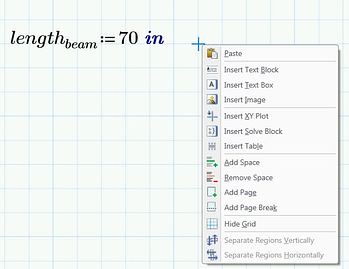 Mathcad has undergone some big changes over the last few years. With the release of Mathcad Prime 1.0 and Mathcad Prime 2.0, there have been some impressive new features and functions that have been added. But how have these helped Mathcad Prime users? Below is an outline of three of the new features within Mathcad that have made life just a bit easier for Mathcad users. The functions are not necessarily big changes, but small improvements that have made difference to the speed, efficiency and experience of using Mathcad.
Quickly add comments with the pop-up menu
Mathcad Prime users are able to take advantage of a faster way to include comments, through the pop-up menu. Just by right-clicking on a Mathcad worksheet, users can access the pop-up menu. From here it is simple to include notes, which are within the parameters of the worksheet definitions.
By using this method to add documentation to a worksheet, users are able to increase the speed that they work, adding in Text Boxes to indicate the calculation being performed.
The pop-up menu also makes it easy for Mathcad Prime users to create additional space in a worksheet and remove unused content from a Mathcad worksheet, through the Add Page and Remove Space functions.
Effective Functions Library Bar for Mathcad Prime users
When trying to find a specific function within Mathcad, users are able to find these with ease. For functions that you use regularly, it's simple to find specific functions within the Function Ribbon.
However, when this is not the case, it is still relatively simple to find the function you need through the Functions library. This can be accessed by selecting the All Functions button. As soon as the Functions library opens up, it is straightforward to find specific functions. By hovering over the thumbnails, the function name comes up, making it easy to find the function you need. By having the library open up to the side, it makes it possible to see both the worksheet and the Help content, meaning users pick the right function with ease.
Stylish Worksheet with Hidden Areas
The hidden areas feature of Mathcad Prime 2.0 is a great way to make the Mathcad experience more stylish. It allows Mathcad Prime users to include additional information, without it being visible. So if there is some data you need to support your solution, but it is not essential to have it on show, you can use Hidden Areas.
When might you use the hidden areas feature? Well, when presenting your solution, hidden areas make the information simpler to follow, by removing non-essential data from view. But, it is still there and easily accessible when you need the extra details.
Want to find out more about the potential of Mathcad Prime 2.0? Download our free guide on the 5 compelling reasons to upgrade.