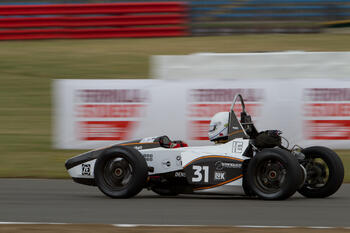 We recently came back from the brilliant Formula Student competition, held at Silverstone from 11th-15th July. It was an excellent event, showcasing the promising potential of engineering students. We have to congratulate the team from Swedish Chalmers University for their winning car, as well as everyone else who made up the 132 teams in the competition.
Formula Student first ran 14 years ago and is now recognised as Europe's toughest motorsport challenge for students. In only one academic year, students must work from the initial brief to create a prototype single-seater suitable for autocross or sprints.
Students leveraged PTC solutions to create their cars
We were joined at the event by PTC, who provided a customised sponsorship package to a number of teams, including the University of Liverpool. Students were able to leverage PTC solutions, to create their designs. As Evelyne Margery, Director of the PTC Academic Program says: "A competition like Formula Student is the perfect way to help students be prepared for rewarding careers in the industry and eventually become the engineers of the future."
By using PTC software, the University of Liverpool team were able to reuse earlier designs, as part of their car for this year, while adding in impressive new features. Alex Darvill, team leader, and his team were able "to simulate structural and thermal loads on the design", enabling them to decrease the overall weight of the car by over 10%. As well as access to tailored software, including Creo and Mathcad, students also gained valuable mentoring, supporting them through the challenge.
Understanding business challenges as part of Formula Student success
Formula Student is not just about engineering and design. All teams participating have to be able to present the business case for their work, proving to judges the value of their design. It's about understanding how design and product development correlates with business challenges and learning how your ideas can enter the marketplace. The University of Liverpool team achieved a fantastic result, by coming first in the business category.
The value of Formula Student
The real achievement of Formula Student is the skills and experience all the participating students gain. As well as putting their engineering abilities to the test, they all develop essential business, team work and communications experience, which will be invaluable for their future careers.
Want to know more about the potential of modern software solutions? Download the free CAD eBook: