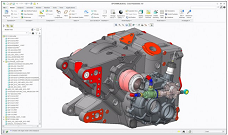 Want to know how impressive the performance and capabilities of Creo Parametric 2.0 really are? Updates to Olaf Corten's Utilities (OCUS) measurement benchmark now means you can capture key performance data of Creo Parametric 2.0 and Pro/ENGINEER Wildfire 5.0 on your systems, to see how they compare. You can then compile your results on the OCUS website, to help other users get a complete comparisson Creo's performance potential.
Results already submitted shows Creo Parametric 2.0 is faster than Pro/E, delivering an impressive 20-30% enhancement in performance for faster 3D CAD design work.
How does the OCUS performance test work?
The OCUS benchmark creates a comparison between platforms by opening a part and assembly, which contains many instances of a part. It then performs repeat actions on the parts to record the performance of these actions. Tests can be run on both 32-bit and 64-bit systems and tailored to specific hardware, so you have the correct performance benchmarks for your system. To find out how you can run your own system test, take a look at the FAQs on OCUS measurement site.
Headline results from the testing
From the results already submitted, there are some remarkable headline results to come through. As well as an overall performance enhancement of over 20%, these results demonstrate the potential for faster 3D CAD design with Creo Parametric 2.0:
Enhanced realism in Creo Parametric 2.0 (known as shade with reflection in Pro/E) is 95% faster
Shade with edges and also with datums is 50% quicker
Saving jpg files is up to 40% faster
Assembly recovery with Creo Parametric 2.0 is up to 10% quicker
What does this means for 3D CAD design?
The data suggest you will be able to decrease the time taken to complete design work, when using Creo Parametric 2.0, as key functions can now be performed more quickly. This will increase productivity, by enabling faster 3D CAD design work, while also decreasing the time to market.
Want to find out more about the impressive improvements in Creo Parametric 2.0? Join the Creo experts for a live webinar, 12 June 2pm (BST)