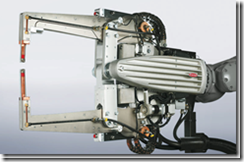 Over the next ten years there are going to be some tough challenges for manufacturing companies to address. To remain competitive they will have to understand the trends most likely to influence manufacturing, so they can prepare as best as possible for these changes.
A recent report by Deloitte and the World Economic Forum outlined the likely factors that will shape the environment manufacturers operate in. It makes for interesting reading and suggests that integration and infrastructure will be key. We'd love to hear from you if you agree, disagree or see things differently.
1. Increased focus on infrastructure
A clear focus on infrastructure will be necessary, for both emerging nations and developed nations. The former require sustained infrastructure investment to take advantage of globalised manufacturing. The latter will need to maintain their position by investing in PLM and other manufacturing infrastructures to remain competitive. Economic challenges and the continuing debt crisis mean that public-private partnerships are likely to be necessary to provide the funding.
2. More competition for foreign direct investment
Nations will become increasingly competitive, when trying to secure foreign direct investment (FDI). FDI is a way to increase both manufacturing and research levels, which is why it appeals to nations. For companies, the challenge will come in distinguishing between increase numbers of potential opportunities to realise which will be the most beneficial.
3. Increased demand for materials
With demand for rare earth element dramatically increasing, there will be a fundamental shift in the way materials are handled and leveraged. Initially, it seems probable that nations and companies will react by stockpiling supply. But, eventually, developments will be made through use of alternative elements, increased efficiency and advances in materials science.
4. Emphasis on efficiency and energy strategy
As both world population and industrialisation continue to grow, there will be an inevitable increased demand for energy supplies. It is estimated that by 2035, international consumption will more than double. This will be matched by growing environmental and sustainability concerns. Companies will have to look for ways to improve their energy efficiency.
5. Accelerated innovation will be vital to success
Companies that are innovative, and can implement these developments quickly, will be more competitive. The ability to implement innovations will help companies and countries to remain ahead of their competition. Essential to this will be to have the necessary skills in the workforce to support innovations.
6. Highly skilled workforce continues to be key
It is essential to address skills shortages. Without talented, well-trained employees, companies will not be able to grow. Companies and countries that are able to attract the most skilled workforce will be the most competitive. Arguably, this will become the most pressing concern for manufacturing.
7. More collaboration between policy makers and manufacturers
To address the main trends that will influence manufacturing, there will have to be growing collaboration. This will be necessary to ensure the structures are in place to provide the support necessary to meet the challenges and trends of the next ten years.