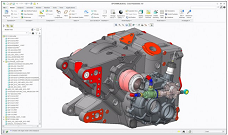 An increasingly competitive marketplace means decreasing time spent on product development, while still ensuring work remains at the highest possible level. Yet, to create tailored designs to precise specifications, you still have to be confident you can alter product designs to match expectations. To achieve this,
3D CAD
tools should be flexible and intuitive, making
3D design alterations
more manageable.
Why are 3D design alterations necessary?
Customer expectations mean design engineers will, at times, have to implement last-minute design changes. Any alterations made have to satisfy the customer requirements, but they also need to be managed efficiently, so they do not impact on the overall product development time.
Coping with unexpected design change
Alterations to designs mean extra hours for the design team, with potential cost increases. Plus, any changes, particularly last-minute alteration, will have an impact on downstream processes. Using difficult, unwieldy 3D CAD tools only make this process more challenging. Organisations need to look for 3D design tools that streamline this process, offering total design agility, without burdening them with increased workloads.
How can organisations prepare for design alteration?
Organisations require 3D CAD tools that are flexible and responsive, particularly to unexpected design changes. By leveraging solutions, such as Creo Parametric, organisations are better able to cope with 3D design alterations, even late in the design process. They can be confident that, regardless of the design complexity, Creo design tools are easily able to manage alterations and quickly provide tailored design results.
Discover more benefits of using the latest 3D CAD technology in our free Creo 2.0 Parametric whitepaper