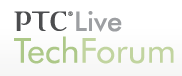 We're pleased to announce the details of this year's PTCLive TechForum. It is a free one-day event, being held on May 16 at the Heritage Motor Centre in Warwickshire.
PTCLive TechForum is a must-visit event for anyone in the UK working with or planning to implement PTC solutions in their business. It brings together industry leading experts, offers multiple technology sessions and an opportunity to sample PTC University training. Why not register now to reserve your place.
Who should attend PTCLive TechForum?
It is an essential event for anyone currently working with PTC solutions as PTC outline their new developments and product roadmap. For users who want to discover useful tips and expand on their achievable possibilities through using PTC products, it's a great opportunity to network and gather best practice ideas.
Attendees who are currently assessing the solutions on offer from PTC will find that the event is an excellent opportunity to evaluate the solutions in the PTC stack and meet with the Concurrent Engineering team.
What will happen on the day?
With a packed agenda,
PTCLive TechForum
will prove to be an enlightening and informing event. The key highlights for you will include:
Gaining practical advice and tips from PTC experts
Opportunities to interact with industry leading companies and learn from their best practice
Find out how you can add value to your company through PTC solutions
Additional details of the event can be found on the dedicated
PTCLive TechForum
microsite.
Take advantage of the benefits of PTCLive TechForum 2012 by registering for free today