Learning Exchange is a new site from PTC University where you can find Free Tutorials about PTC products. While on Learning Exchange you can explore the site and the product categories, and discover new ways of using the PTC products you use every day. Furthermore, if you find something particularly useful you can share it with your peers through Linkedin, Facebook, or Planet PTC.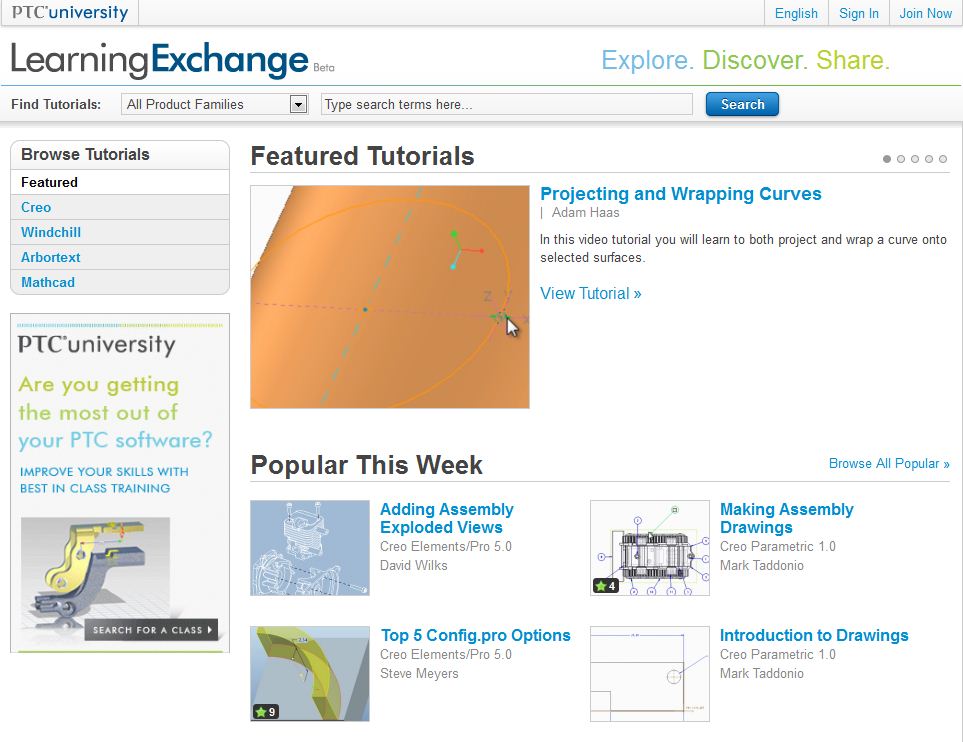 How did Learning Exchange Start?
PTC created Learning Exchange as a central space to gather all of the product knowledge, and share it with the product users. Absolutely anyone can access it, customers, non-customers, students, anyone!
What type of content is hosted?
There are 3 types of tutorials you can access on learning Exchange - Video tutorials, written tutorials, and a combination of both.
Just in time for the release of Mathcad Prime 2.0, PTC has published free video tutorials highlighting some of the key enhancements of Mathcad Prime 2.0. The Excel component, 3D Plotting, Symbolics and Collapsible areas.
These tutorials are all available from the Mathcad section of the Learning Exchange site!
More really useful information created by PTC University can be found in the must read e-Book "Maximize Creativity and Efficiency with Best Practice Adoption."
PTC University created this Best Practice Academy to help companies design their products using the appropriate methods that support their whole design process. As well, it enables the adoption of proven product development best practices that best fit their individual circumstances - industry, product configurations, team size, strategy, etc.
Read This New eBook and Learn How To
Go beyond standard technology training
Adopt best practices specific in your organization
Increase the level of creativity and efficiency
Go to the
eBook page
and fill in your details to get access!
Customer Feedback?
Have you used the Learning Exchange yet and viewed any of the Free Tutorials?
Have you downloaded Mathcad Prime 2.0 yet?
If so we would love to hear your thoughts!
Please send us your comments below, or get in touch if you require any further information!