"The scalability of Pro/ENGINEER enables us to use a single system for all of our processes, which greatly simplifies administration and maintenance."
Thomas Bichler works as a CAD administrator in the construction area of the research and development department at FRONIUS International GmbH, a leading manufacturer of welding technology, solar electronics, and battery charging technology.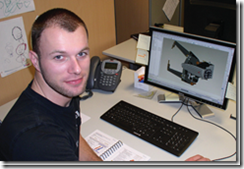 Mr. Bichler has many years of experience working with various 2D and 3D systems, including AutoCAD® and Mechanical Desktop®, and has been using Pro/ENGINEER for over six years. His responsibilities as a CAD administrator include supporting the design engineers with technical issues relating to Pro/ENGINEER, and with adaptation and administration of the Pro/ENGINEER environment.
"The introduction and adaptation of Pro/ENGINEER went very smoothly; the training of our Austrian PTC software reseller helped me a great deal. After only one or two months, our environment was optimised and the employees were familiar enough with the software so that we were able to complete our projects at the desired level of productivity," he reports.
Why Pro/ENGINEER is So Effective
"Due to the diversity of products, our company uses almost every type of production method, including turning, milling, sheet-metal working, and plastic-injection moulding. All of these are supported by Pro/ENGINEER. In addition to full support for the production chain, the entire spectrum of product development is also supported by Pro/ENGINEER modules, such as FEM and simulation. This means that we can develop our products effectively, safely and reliably with only one system.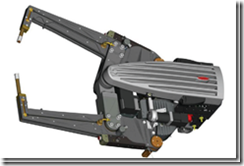 Delta Spot–rendered in Pro/ENGINEER.
The spinal bend function is especially important for us. Although this is a very specialised function, it is extremely useful to us, since all of our welding torch components have to be bent according to predefined templates or values. The design engineer can model the component blank, in straight condition, and then bend it to every available variant after generating a separate part file. This function in Pro/ENGINEER is a good example of how the software can solve a complex design task in an easy manner. Designing is just like production. Without this function, the model would need to be created fully in 3D, which would be clearly more time consuming.
The major advantage for me as a CAD administrator is the scalability of the system.
With Pro/ENGINEER, we can use one system for all aspects of modern development work–both for depth, with advanced special functions, and for width, with numerous integrated modules. These optimum processes allow us to make full use of our potential for productivity."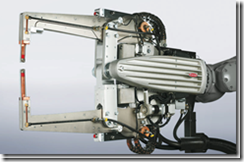 FRONIUS International's Delta Spot–designed in Pro/ENGINEER – has revolutionised the process of spot welding. The contact surface is protected by a process belt that moves along between the electrode and the work piece. This assures consistent quality for every spot. Also, every spot weld is documented for later analysis. Depending on the conditions, one belt is good for up to 21,000 spot welds.