Fabrizio Calandro is a Mechanical Draftsman working for CROWN Closures Italy S.r.l – Divisione C.o.E.
He has been working with Pro/ENGINEER for eight years. Prior to Pro/ENGINEER, he was able to experience other 3D packages, such as Mastercam and SolidEdge, but he says that "Pro/ENGINEER has proved to be more powerful and stable than its competitors."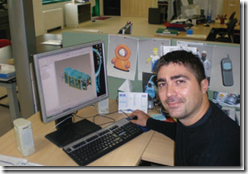 Mr. Calandro uses a full range of Pro/ENGINEER functionality to create and document very large assemblies. Pro/ENGINEER makes it easy to construct sheet metal and other mechanical components, and assemble them to develop realistic digital prototypes. Pro/ENGINEER delivers other engineering benefits, such as calculating mass properties and creating design animations to communicate product functionality.
Why Pro/ENGINEER is so Great
"I am excited every day about the quality of the results I get from Pro/ENGINEER and the speed with which I can achieve these results.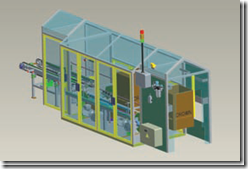 The Carton Vibrator is a mechanical system through which cardboard
is shaken during introduction of the capsules to guarantee the right quantity.
For example, when I place a part into an assembly, it is very easy to define the appropriate connection. I then bring this information into the design animation tool to create animation sequences of explosion or assembly states of our products, with minimal effort.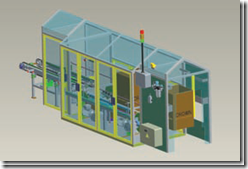 The Air Table feeds packaging caps into production line ensuring the continuity of the flow,
prevents the discards of metal caps and reduces spaces in the final positioning of the layout.
I started working with Pro/ENGINEER version 2001 and learned it by myself. After only a few days I was able to make accurate models and drawings, and go on alone. The learning curve was very low even then, and each new version of Pro/ENGINEER has introduced new and powerful functionality while becoming even easier to use."