"…from early concepts through calculating, production tooling, drawings – even for advertising material. The software is extremely robust, so we never have to worry about crashes."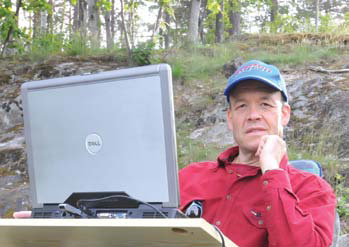 With more than 20 years of professional experience, in which he has tried many CAD software packages, such as AutoCAD®, Inventor®, Vellum® and Alibre Design®, Håkan Kjellgren has developed the expertise to become a trusted advisor to his clients at Teknikide AB, a design agency based in Stockholm.
When founding Teknikide in 2003, Mr. Kjellgren selected Pro/ENGINEER as the design package of choice for his company, since, in contrast to many competitive products, Pro/ENGINEER is capable of handling even the most complex and advanced designs, while covering all needed areas of functionality.
Why Pro/ENGINEER is So Effective
"After working with various 2D and 3D CAD systems for many years, I have been well aware of the problems that can arise once a project has been started. For example, after working on a new design for weeks, I could never be certain if the models would export correctly so they could be used by the manufacturer for NC tooling. And, often, they couldn't open the model at all. Technical Support, if there was any, couldn't do anything but send a bug report to their head office. For me, it meant trial-and-error until some kind of model worked correctly.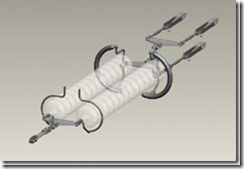 400 kV tension string for the electric power industry, created in Pro/ENGINEER.
Unfortunately, the real world of product development is, most of the time, very complex. But with Pro/ENGINEER focusing on the whole product development process, I am able to produce high-quality products as quickly and cheaply as possible. Because everything is in one package and is very affordable, it gives smaller companies like ourselves a major competitive advantage over users of lesser 3D CAD products. Also, ever since the introduction of the Wildfire® versions, Pro/ENGINEER has become so much more user-friendly that it does not force me to remember complicated commands, and in which menu to find them.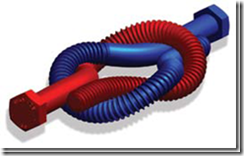 Unlike other 3D CAD systems, Pro/ENGINEER enables designers to program
swept surfaces very comfortably, and offers extremely powerful commands like Warp.
However, what really saves time in product-development projects, and what both theory and practice knowledge teach us, is: 'Do it right from the beginning.' It is not a question of creating a good-looking design as quickly as possible and intuitively, but a question of being able to make your models robust enough to be used all the way through the whole process, from concept to manufacture. For me, this is the main reason why Pro/ENGINEER is so effective."