"Even complex designs – such as intricate turbo gears – become child's play with the tools from Pro/ENGINEER."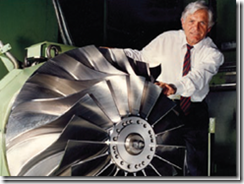 Dr. Ing. Heinrich J. Prümper has worked with Pro/ENGINEER for more than 10 years.
Throughout his lengthy professional career, he has used various CAD systems, but for the challenges he has to face on a daily basis in his engineering office, Pro/ENGINEER has proven to be the most powerful and most efficient solution.
"Essentially, I am involved with the overall design and detailed design of turbo compressor systems and with their complex components, such as three-dimensional rotors, guide vanes and spiral housings."
Why Pro/ENGINEER is so Great
"In my daily work I use almost all of the available functions, such as extruding, rotating, straight and rotated section sweeps, variable section sweeps along generated spines, use of geometries controlled by graphs for sliding modification of dimensions and patterns, and much more.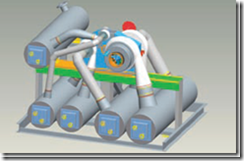 Model of a turbo compressor in Pro/ENGINEER.
What I like best about Pro/ENGINEER is the capability of using advanced methods, relations, parameters and graphs to modify components and assemblies quickly and thoroughly for adaptation to new requirements.
Whether I need simple design elements (rounded corners, draft angles – constant or variable, rotation geometries or shell elements) or highly complex geometries, such as swept elements and those controlled via graphs, Pro/ENGINEER gives me the ideal development environment for 100% results with no compromises.
The sum of the factors convinces me every day that I have chosen the right tool. Even complex turbo gears – where up to five helical gear pinion shafts engage in one central drive gear – are transformed by means of relations and parameters into a completely new gear unit in less than two minutes. Even complex designs – such as intricate turbo gears – become child's play with the tools in Pro/ENGINEER!"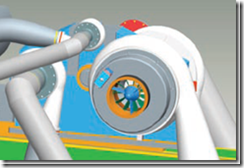 Detailed view, Pro/ENGINEER model of a turbo compressor.