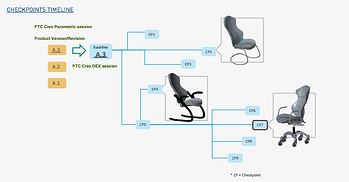 For many designers, being able to change and modify a concept design to evaluate new ideas is technically challenging. It can be a frustrating process, particularly when you're working on a complex assembly, with many interdependencies.
But it doesn't have to be this way. By using Creo Design Exploration Extension (DEX), users can now simplify this process, with a tool that has been created for this specific role. As a result, the process of changing, and evaluating multiple design concepts becomes quicker and easier.
If you're still using a process, that relies on making manual backups of models to ad-hoc folders, repeatedly closing and cleaning session and having to revisiting and reviewing each iteration to make a final decision, then it could be time to make a change.
What are the key benefits of Creo DEX?
There are several main benefits of Creo DEX, these include:
The opportunity to explore different design changes, without putting the original design at risk or having to commit to any changes
The option to develop multiple different ideas and assessing these options, before having to decide on the final approach.
The ability to eliminate manual data duplication and those frustrating session clean-ups for loading and reloading different versions
The capacity to switch between different design ideas, for easy analysis and comparison
In practice, Creo DEX allows users to evaluate multiple design alternatives. It means that you can quickly and easily determine the best approach for your product. Additionally, if you start to explore a design path, but then decide it is not the most appropriate path, then you can revert back to an earlier version, without having to recreate the model. All this means that you can now shorten the time it takes to develop and explore all of your design options from weeks to days.
Want to find out more about Creo DEX? Join our webinar on Tuesday 21st October 2014: