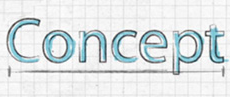 When an idea strikes, what do you do about it? How do you start to turn those initial ideas into a proper concept and, eventually, a finished product?
Designers and engineers have always had the rough sketch on a scrap of paper or napkin. But this is far removed from the modern design process and CAD technology.
Even with the introduction of 2D technology, bridging the gap between the concept design stage and 3D modeling has often meant having to recreate the drawing as 3D models.
But, increasingly, the design process is changing and the transition from concept to 3D model is becoming much smoother.
How has technology enabled this change in early concept designs?
Essentially, this change is enabled by direct modeling technology because it means that designers can modify existing design models to easily create new concepts. By having your concept work integrated within your CAD tool, you're able to access all of your current design collateral and use this as a starting point for your work.
Also, with the new Design Exploration Extension for Creo Parametric 3.0, users are able to experiment with different design options with ease. Plus, with this extension, you don't have to save a web of folder to your hard drive to store all the different design concepts.
What are the benefits of integrating early concept work?
The real benefit of using 3D as part of early concept work comes down to the fact it saves times. This time saving can be used in multiple ways. For a start, it could enable you to get your products to market faster. On top of this, design teams are free to explore and develop their ideas at a much earlier stage. This enables them to investigate more options, without having to commit to a length development process to test them out fully.
Another advantage of using an integrated CAD tool means more people can get involved during the concept design stage because they all have access to the same tool set. This means more expertise can review the product before it goes into development and products and more opportunities to prevent poor products from reaching the market.
Want to take the next steps? Try Creo - it's free for 30 days: