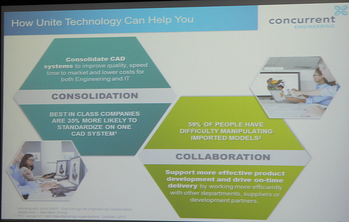 We've talked quite a bit in recent months about the challenges of working in a multi-CAD environment. We also talked about the benefits to organisation of being able to overcome these challenges.
But, with Unite Technology, it now means you can have the tools to makes these benefits a reality within your organisation.
What is Unite Technology?
Unite Technology is part of the latest release of PTC Creo. It allows engineers to use non-native Creo data right within Creo itself, without having to convert or create a new business object. In short this means that you can now add a SolidWorks, NX or Catia part straight into your Creo assembly.
On top of this, if the SolidWorks, NX or Catia part is updated in the originating application, this modification is propagated to the Creo assembly.
Understanding Open Vs. Import in Unite Technology
Unite technology also enables users to import and also open non-native geometry, without you having to use a neutral file format, from most CAD file formats.
There is, however, a clear distinction between importing and opening. When you import a file, it creates a new business object as a native Creo file. When you open a file, it does not create a new business object and the original file format is maintained.
Why is Unite Technology an important development?
There are clear business advantages that come as a result of Unite Technology, including:
Reduced cost of additional file management by limiting the number of extra business objects created
Decreased time spent converting files, with the ability to open and import enabling you to work with non-native Creo files more easily
Ability to propagate updates in the originating application into the Creo assembly
The ability to Save As non-Creo CAD files will also soon be available. This offers companies the means to , without the additional cost of any translation software or the need to recreate models when working with multiple CAD systems.
Want to find out more about Unite Technology? Talk to us today.
Or, try Creo Parametric out for yourself – it's free for 30 days!