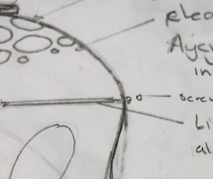 Concept design is crucial to the success of a product. But getting design concepts into a shareable electronic format has traditionally been a challenge.
Why is concept design important?
A recent study of trends in concept design [Source: PTC] found that 7 out of 10 companies, throughout the concept design phase of product development, created a wealth of intellectual property.
In addition to this, companies also found that nearly 70% of a product's final cost was fixed during the concept design stage. The message here is clear: concept design is important.
But, here is the problem. Until recently, companies struggled to take their brainstorming sessions and bring them to life in their CAD software. Even though every modern office is filled with computers, design engineers still turned to pencil and paper when first working on their ideas.
There are other benefits to using CAD systems to capturing concept design. Instead of spending hour after hour transitioning hand sketches, the new approach makes designers more efficient. And, with this efficiency, comes more time for a deeper exploration of concept design options.
Why were design engineers taking this approach?
If there are clear benefits of using CAD for concept design work, why have design engineers still been using paper and pencil? It's because this approach has a low barrier to entry. The same can't always be said about for 2D and 3D CAD systems. While the old pencil and paper method might be available for anyone to use, it lacks many of the characteristics that make CAD so powerful. Hand drawn sketches have little dimensional information; they don't have any easily sharable format.
What are the alternatives to using paper and pencil for concept designs?
Instead of using paper and pencil, there are other options that designers can take. For instance, 2D CAD systems contain all of the tools that engineers need to give their initial drawings a solid meaning. The downside to this is that it takes time to learn the software. It also takes a bit of time to get each project started.
Additionally, there is the option to use 3D CAD tools for concept design work. This has another benefit – 3D models can be prototyped using a 3D printer, which gives people a clear idea of how the design is developing. But, again, there is a problem with this approach. Typically, 3D CAD software is designed around a parametric approach, which locks down the finer details of the model. Therefore, it doesn't lend itself to multiple reiterations for prototype development.
For concept design in CAD to move forward, it will be increasingly important to unite the strengths of 2D and 3D CAD. This is already happening. The new approach for concept design revolves around the idea that you can take a 2D sketch and use it as the basis of a 3D model. This means that once a 2D sketch is completed, it can be imported straight into your 3D CAD tool.
Want to find out more about the pros and cons of 2D and 3D CAD? Download the presentation here: