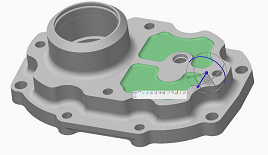 You are working on a new product design and need a particular part to complete the model. So, what are your options in this situation? Often engineers will opt to design a new part: purpose designed and built for the new product.
For the individual engineer, creating a new part can be quicker than trying to track down an existing part. But, for the company as a whole, this decision can slow down the product development process and delay the release to market.
This new part will create more work for other departments. It needs to be analysed, tested and validated. Then, it needs to be manufactured. Potentially, this means that new tool paths will be needed, extra materials will need to be purchased and new part numbers added to internal and external publications.
But there is another option. It may in fact be possible to reuse an exist part to do the required job. Engineers can utilise a similar legacy part to complete their model. There is already a large amount of data available about existing parts, which can be included to make new product innovations, including analysis, user datasheets and service reports.
How does design reuse benefit different departments?
For the organisation as a whole, design reuse has significant benefits. Here is a breakdown on how it helps different departments:
Engineering – Using existing parts will help make engineering more productive. It means engineers are not constantly expected to re-make the wheel, Instead, they can get to work on the next product development.

Quality Control – When using exiting parts, there is already a wealth of information available. The part has already been proven in the market.

Manufacturing – By using an existing part, the information require to manufacture it already lives within the organisation. This means time is saved and costs are reduced.

Procurement- Re-using parts means that the purchasing information for materials can also be reused. This saves time and also decreases the risk of errors being made.

Senior Management – All of the above benefits help senior managers by helping them to achieve cost savings and faster time to market
How can you realise the benefits?
Being able to access the benefits of design reuse rely on having a comprehensive product data management system. It will help you to organise you parts information, enabling you to find the right parts information when you need it for a new project. It means you're able to reuse existing parts more easily, without having to waste time trying to track down the right part.
Find out more about design reuse by reading the Design Reuse Report