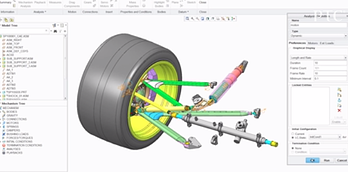 PTC Creo Simulate offers extensive simulation capabilities. These allow design engineers to analyse both parts and assemblies. This means that you can fully investigate the structural, thermal and motion behaviour of your designs under real-life circumstances.
The process of analysing parts and models is made easy, with an intuitive user interface. For example, if you're designing a steering assembly, you can quickly apply loads to reflect the range of motions that the wheel would experience after hitting an obstacle in the road. Then, completing the necessary analysis is straightforward. Additionally, while the simulation is running, visual feedback is provided. This helps you to validate that the loads have been properly applied.
After you have completed the simulation, the results are presented to you in an easy to understand format. This includes clear visuals, such as the performance graphs. With this feedback data, it means that design engineers can see how the part is functioning.
Now, if further analysis or more detail is required of specific parts, Creo Simulate allows you to collect this information. For example, if you need structural analysis of a component against the specification, you can collect this information.
What are some of the advantages of using Creo Simulate?
1. Automatic mesh generation - Users can automatically generate a mesh frame on a component, instead of having to create this for themselves.
2. Conduct non-linear, buckling and dynamic simulation – This feature enables you to fully interrogate your components and ensure they meet your specification
3. Automate the creation of reports – Instead of spending time pulling together your data into a report, this can be don automatically
How can you use this information to optimise your models?
Running analysis on parts and models is one thing. But acting on this information is another. The seamless integration between analysis and modelling enables you to make necessary changes quickly and easily; generating significant value for companies in the product development process.
Want to know more about Creo Simulate? Contact us today.
Alternatively, try Creo Parametric- free for 30 days.