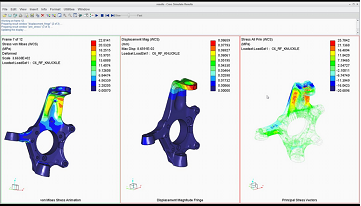 For many organisations, there can be choke points in their product design process. These slow down the rate of development and mean it takes longer to get new products to market. One example of this is simplifying models for analysis, which is a challenge for many companies.
Think about it. When companies rely on design engineers to simplify models for an analyst, inefficiencies can arise. To start with, the analyst has to wait to for the designer to finish this simplification before they can start their work. Then, to complete this simplification, the designer is torn away from other projects.
But, it doesn't have to be this way. With the right tools in place, an analyst is able to prepare a model for analysis, without having to rely on the design engineer. This has two clear, immediate benefits:
The analyst doesn't need to wait for the design engineer to finish the simplification before they can get on with their work
The design engineer isn't taken away from other work to complete the simulation
But, how is it possible for the analyst to simplify the CAD model?
With the direct modelling capabilities of Creo, the analyst is able to simplify the model, without needing specialist parametric CAD training. Instead, they can work directly on the model. With Creo, analysts can simplify geometry that isn't required to run the simulation. For example, the analyst can remove rounds. They even have the option to create new geometry. Plus, the analyst doesn't have to be a parametric CAD expert to do this.
After the model has been simplified, it's ready to be passed on to a simulation tool. To streamline this process further, you can open your CAD model in Creo Simulate to complete the simulation. There is also the option to import into any 3rd part simulation tool.
What are the other benefits of using Creo for simulation?
Using Creo for simulation doesn't just save time for design engineers and analysts, it also makes it easy to propose the necessary changes. For example, the analyst can use Creo's direct modelling technology to change the radius of rounds to strengthen the design. Then, because of the seamless interoperability between Creo apps, when you return to the simulation environment, Creo Simulate will automatically update all of your loads and constraints.
Creo saves time and effort for both the design engineer and the analyst because analysts aren't waiting for someone else to simplify the design and changes are easier to make. It also helps manufacturers to overcome a real choke point in their product development process.
Want to try Creo for yourself? Download the 30-day free trial here: