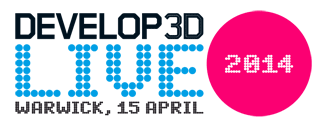 Develop 3D Live is back for another year. The 2014 exhibition is less than one week away. On 15 April, at Warwick Arts Centre, you can join four conference streams, across five exhibition spaces, with over 55 exhibitors.
But, if that alone isn't enough to convince you to attend, here a four more reasons for you:
1. See industry expert speakers
There are going to be over 30 relevant speakers, which you can see for free. They're going to be covering a wide range of industry topics; everything from workstation technology to 3D printing and the latest thinking in product design.
2. Meet and network with your peers
Events are a great opportunity to meet up with other industry professionals, as well as your clients and suppliers. Come along to Develop 3D Live for the chance to meet up and network.
3. Opportunity to win VIP trip to Italian Grand Prix
Win an all expenses paid trip to this year's Formula One Italian Grand Prix, courtesy of Dell Precision workstations
4.
Meet the Concurrent Engineering team
We're going to be exhibiting at Develop 3D Live. Come along, visit our stand, and find out more about how we can help you to develop great products, as great products make great companies and drive future revenues.
Want to come along? Tickets for the event are free. You can register here.