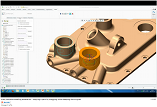 Nothing works in isolation. This is especially true in our increasingly connected world. So, it's no surprise that, in an engineering environment, one of the ways the effectiveness of a CAD tool is measured by the extent it is able to interact with other processes and systems. Think about it this way, when you use a sophisticated CAD tool, but find you cannot integrate this information to other parts of your product development process, this limits the effectiveness of the system. So what are the characteristics to look for, to ensure your CAD tool is as effective as possible?
Flexibility to work with non-native
Having a CAD tool that allows you to open and modify non-native data is important, as it is not unusual for different CAD systems to be used in the development of a product. This flexibility can speed up the process from design to manufacture, because it allows you to:
Import models from other CAD packages, while maintaining all of the design intent.
Avoid the need to manually recreate models because the import has corrupted or is incompatible
Seamlessly share data with other packages.
Modify non-native models without destroying design integrity.
Integration with the Whole
Where disparate systems are used that cannot talk to each other, a great deal of time can be wasted manually recreating 3D models, so they are workable in your system.
This common problem inevitably leads to errors such as incorrect dimensions, tolerances, and rendering. A great CAD tool:
Will be able correctly interpret non-native drawings.
Will interface with all elements of the manufacturing system.
Will import and export freely without compromising data.
Integration with PLM
By ensuring that your CAD tool is as effective as possible, integration with your PLM system is essential. This will help to prevent any friction or miscommunication between internal teams and external partners. As a result, the product development process can become much smoother. There are many benefits, including:
As new versions of models are created, they can be fully tracked and managed
Version control becomes more straightforward, removing the associated complications of poor version control
Parts can be easily identified and all the associated information can be found
Comprehensive Training
To help you get the most out of your CAD tool, comprehensive training is essential. Investing in training means that you and your team can reduce the time spent learning a tool and spend more time using a tool to get the job done. It can also help to remove some of the frustrations that go with trying to work out how to use features by yourself.
Want to find out more about characteristics of an effective CAD tool? Download the free guide: 12 Reasons to Upgrade to Creo Parametric 2.0: