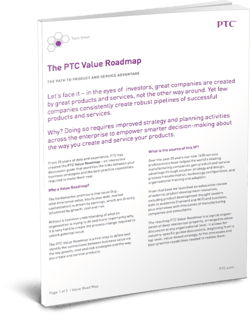 Having a strategy in place to ensure that your product and service delivery is great is the key to becoming a great company.
The PTC Value Roadmap can help you to achieve these goals. It is a comprehensive and interactive guide, that builds and identifies the links between your business strategies and best practice capabilities.
This introductory document takes you through the key headlines of the PTC Value Roadmap, including:
What is the PTC Value Roadmap?

How does the PTC Value Roadmap work?

How do you get started?
Fill in the form to download the roadmap document.