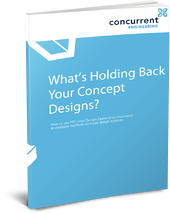 In a recent PTC survey 92% of their customers said their businesses could benefit financially if they had a better platform for exploring concept designs. So what can you do to make sure you have the right platform in place for your concept designs?
In this eBook you'll find out more about
The traditional challenges that you have to overcome when working on concept designs
How you can use the PTC Creo Design Exploration Extension (Creo DEX) to evaluate multiple design options
What changes you can implement to streamline concept design processes, making the more efficient and, ultimately, more profitable.
Complete the form to download a copy of the eBook now.