Legacy product design systems are not fit for the way designers and engineers work today. However, new solutions have emerged to bridge the gap. Let's find out more.
In many ways, the product design process hasn't changed much since the days of blue drafting paper. Sure, everything is done on computers - but when it comes to collaboration, feedback and revising work, it's very similar. You're just huddling around a computer screen rather than a drafting table. Projects exist as files on static machines that are difficult to send elsewhere without severe risk.
Today's world of remote work has accelerated these file-based CAD systems' obsolescence and prioritised the need for something new. In this article, we'll look at how cloud-native product development platforms such as Onshape solve four previously existing problems.
1 – Working remotely
In a world of remote work and social distancing, designers and engineers crowding around a computer terminal to work on a single design file is no longer feasible. New product development solutions exist in the cloud, so product development teams can log into the tool from any device with internet access, including their mobile or tablet. This helps teams stay productive while keeping each other safe.
2 – Working together
Collaboration was always a challenge with the legacy, file-based CAD systems. There needed to be multiple email chains to get anything done, while it was almost impossible to know whether you were amending the latest version of a file.
Cloud-native tools enable real-time collaboration and sharing of ideas. Wherever product designers or engineers are in the world, they can work together on a product, communicating clearly. The new solutions incorporate version control, so you can be confident you're working with the latest version. It's simple to go back in time to a previous version. You can also take a version, copy and experiment with it without damaging the original design. If you have ever used Google Docs or Dropbox – it's like that, but for product development.
It enables true collaboration, which ultimately leads to better products.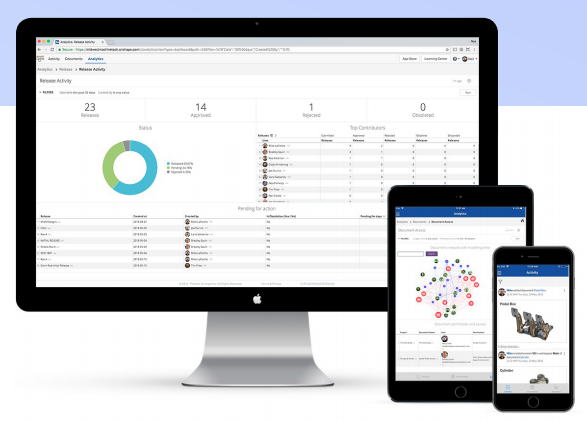 3 – Feedback
Sharing designs with other stakeholders in the company was always a challenge with traditional, file-based CAD systems. Moving a design file away from the computer it was created on was fraught with risk, such as corrupting the file. Feedback from company members would be via email chain, while different stakeholders may contradict each other. Then, everyone would need to get together again to action amendments and edits.
Thanks to new cloud-based solutions, you can send a design anywhere in your company by creating a simple web link, while stakeholders can leave comments which are quickly resolved. It makes the approval process smoother and more flexible.
4 – Third-parties
New solutions make it possible for different companies to collaborate with each other on designs, as well as improving communication between external partners, such as suppliers and manufacturers. On file-based systems, risks around file corruption and security meant that companies would be reluctant to let their designs leave their premises.
With cloud-based tools, you can send design files across the globe with a secure, password-protected web link. You can be confident that they see the correct version and that any suggested changes are logged. This speeds up the product development process and will ultimately lead to a better finished product.
Find out more
Cloud-native product development solutions relieve the pain that used to be associated with working with static files. In today's new world of work, solutions like Onshape are essential.
Start your free Onshape trial today by clicking the button below.