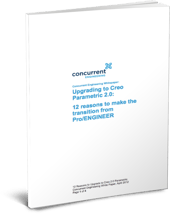 When Creo 2.0 was launched, PTC also made significant updates to the Creo Parametric app. Find out why you should consider making the upgrade with this whitepaper.
In this whitepaper, you will discover how Creo 2.0 Parametric will:
Increase your design capabilities, especially if you're still using Pro|ENGINEER
Improve your collaborative work between users and across the Creo app range
Enhance your ability to detect interference problems earlier in the design process
Complete the form to download your copy of the eGuide.