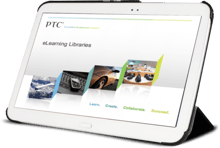 Tailored to the needs of University students and academics, find out more about the University eLearning libraries from PTC.
The Universities eLearning libraries guide takes you through:
All of the features of PTC eLearning
The benefits you can gain through the eLearning programme
How you can find out more about accessing thee elearning libraries.
Fill in the form to download your copy of the guide.