At KMF our apprentices are placed on a rotational basis in each department enabling them to develop a clear view of the necessary skills required to become a modern sheet metal engineer. Our design team already use Creo to model a full range of sub-contracted metal parts/components and this exciting partnership means that the apprentices are able to learn 3D modelling within the classroom environment and can, "hit the ground running," when their time in the design department comes around.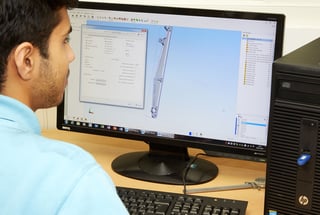 The ability and confidence of our young people has grown immensely and they are tasked with looking at projects within our facility, based around KMF's continuous improvement strategy. Cupboards, waste bins, racks, notice boards, tool racking, etc. are sketched, measured and finally 3D modelled by our apprentices using Creo and we have been amazed at the speed in which they pick things up. The whole package helps them develop their drawing skills, understand which processes are most suitable and determine any design faults and material requirements.
To top this package off, Concurrent Engineering provide an excellent helpdesk service, in the few times we have called on the services this department, the service has been nothing short of exemplary. Polite, speedy, efficient, nothing is too much trouble and these words don't really do the staff of this department justice. I could mention individuals' names but am certain that those involved would simply see this as doing their job. However, I would like them to know that they have my sincere thanks for their exemplary work ethic.
All in all, we believe that pursuing the CAD route with our apprentices and forming this partnership with Concurrent Engineering has ensured that our young engineers will be ably equipped for the future.
Many thanks to all at Concurrent and PTC
Steve Dalton
Apprentice Trainer
KMF (Precision Sheet Metal)